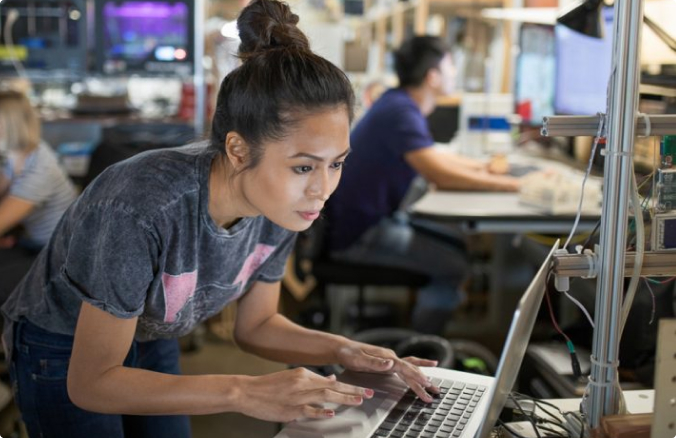 Location

Washington, D.C.

Size

10+

Use case

Events
I'm used to presenting in person and having that engagement with the audience in a face-to-face environment. Now, with the transition to absolutely everything being online, I've needed to use Poll Everywhere to be able to deliver effective presentations virtually.
Naomi Boyer, Director of Credentialing Products at Education Design Lab, conducts research and shares her findings through interactive presentations and workshops using Poll Everywhere. "I'm not one who just likes to talk at — I'd rather engage with. Poll Everywhere allows me to bring in the participants to make it more meaningful to them and also to hone what I'm speaking about based on their interests."
Engaging diverse audiences
Naomi joined Education Design Lab after a successful career in higher ed administration. "I was at the University of South Florida for nine years as an Assistant Vice President, working on distance learning, extended university, continuing education, and global initiatives. Then I went over to Polk State College for eight years and served as the CIO and Vice President of Strategic Initiatives and Innovation, researching and implementing alternative learning models in addition to the areas of previous experience."
As part of her work in all three settings, Naomi gives interactive presentations at conferences, events, and webinars on a national level. "I was blessed to be able to use Poll Everywhere as part of that work in order to best engage audiences in the topic at hand."
Naomi first discovered Poll Everywhere about three years ago, when an instructional technologist recommended it at a faculty workshop as a way to garner feedback from students and gauge progress. "Since then, I've definitely turned on a lot of users."
Naomi went on to work with administration, faculty, and higher education officials at college-wide, university-wide, and national conferences.
Now I'm working with business and industry as well as other community organizations, creating the 'learn and earn' ecosystem. There are a lot of constituents that I've had the advantage of using Poll Everywhere with.
Conducting research with live interaction
Naomi has two key approaches to audience engagement with Poll Everywhere. "I insert activities into my PowerPoint slides both for gathering data and research, but also as a means of keeping audience members engaged and using their feedback to then customize and personalize my presentation to meet their needs."
In terms of research goals, Naomi has found reporting in Poll Everywhere to be useful for consolidating and exporting data after a live presentation. "I've designed alternative programs and worked on the competency-based education front, so many of the presentations I've done on that topic have been for conducting research on what others are doing in the competency-based education space. Poll Everywhere allows me to understand the audience as we move through the presentation, but I also use that data as I do further publication."
When she's not researching, Naomi uses Poll Everywhere to tailor her content to her audience. "I pepper questions throughout my presentation to help pace the attendees with the knowledge I'm providing. I give prompts to gather audience feedback, which then allows me to stage the next portion of my presentation. For example, a word cloud gives the audience a chance to gather their thoughts and allows us to discuss the content in a meaningful way. I can pose significant questions on a particular topic that we can add further discussion on."
Naomi is looking forward to continuing to use a variety of activities, from word clouds to rankings to clickable images, in her presentations. As an expert on distance learning, she believes that student engagement is critical, whether you're meeting live or in an asynchronous setting.
There's every bit as much of a need to be able to gather learner feedback asynchronously. The more engaged learners are and the more they're able to do something actively, whether it's clicking on a response or reflecting on how something makes them feel, allowing them to express their own persona as part of that experience is valuable. With Poll Everywhere, you can link to activities and integrate with learning management systems to plug in additional engagement features into your curriculum.
Poll Everywhere for remote meetings
Deliver powerful presentations with actionable results.
Learn more